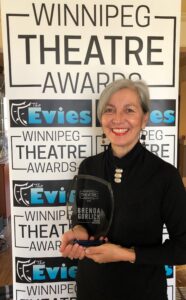 Three members of The University of Winnipeg's theatre department – Brenda Gorlick, Allison Loat, and Eric Blais – were recognized at the Winnipeg Theatre Awards, held virtually on Monday, November 2, and hosted by UWinnipeg alum, Melissa Langdon and Matthew Paris-Irvine.
The annual Evie Awards celebrate, recognize, and acknowledge excellence in Winnipeg's theatre community.
"I'm so excited that the excellence of Allison, Eric, and Brenda's work has been recognized so publicly by the Winnipeg Theatre Awards," said Christopher Brauer, Chair, Department of Theatre and Film. "They are highly respected both as professional artists and as educators."
Brauer is extremely proud of The University of Winnipeg's contribution to the arts community.
"Our strength as a department is that all our faculty and staff are theatre and film professionals who link us directly with the performance industry and we're so proud to count all three of them as long term members of our teaching family," he said.
Brenda Gorlick, Theatre Educator Award.
Brenda Gorlick is a UWinnipeg alumna and instructor who returned to UWinnipeg in 2003 to initiate the "Introduction to Dance for Musical Theatre" program. She also served as guest professor and choreographer alongside Kayla Gordon over the last several years for the musical theatre performance courses offered by the department.
"As an educator in the field of musical theatre and dance for more than four decades, I have always hoped that my passion for the arts would inspire others along the path, just as my many teachers have done for me," she said. "This award reinforces the fact that I might be doing something right!"
She is very proud and humbled by this recognition.
"I have never been one who believes that my teaching practices are exclusively responsible for the many successes of my students; I am only a stepping stone – imparting knowledge where I can, giving guidance to those who seek it and ultimately attempting to improve the outcomes of those who I am fortunate enough to teach," she said. "I continue to learn from my students and from the world around me, which is what ignites me, both as a teacher and a human being."