Heathers: The Musical is dark, raunchy, and sure to please fans
If you enjoyed the cult hit movie, you'll find the musical adaptation 'very'
By Joff Schmidt, CBC News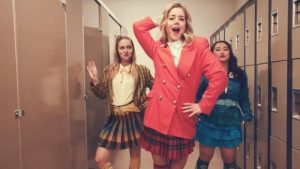 Teen suicide, murder, sex, bullying and social isolation — it sounds like strange material for a musical. But when the source material is the 1988 cult hit movie Heathers, it all makes perfect sense.
And it all amounts to a weirdly entertaining, and very darkly comical, musical romp in Winnipeg Studio Theatre's production.
Like the movie it's based on, Kevin Murphy and Laurence O'Keefe's 2010 tuner focuses on the horrible clique of three girls named Heather (played here by Jenna Hill, Brittany Hunter and Andrea Macasaet) who terrorize an Ohio high school as its most popular trio.
They invite geeky Veronica (Julie Lumsden) into their inner circle. But when she connects with a brooding loner named J.D. (Matthew Fletcher) who despises the school's clique system, things get a little homicidal.
A lot of it's played for pitch-black comedy. The Heathers' big song, Candy Store, riffs on just how awful teenagers can be to each other. My Dead Gay Son, beautifully performed by Simon Miron as the dad of a high school football star, somehow manages to make a number about death and teen ostracization into an ebullient musical number.
Which is not to say that this musical tries to make a laughing matter of issues that are, quite literally, deadly serious. There are genuinely poignant moments, like Veronica and J.D.'s soaring duet Seventeen — a wistful lament for youth from kids who seem sure there must be a better way to live. Or Kindergarten Boyfriend, performed with gusto by Jillian Willems as Veronica's nerdy friend Martha, which also touches on the theme of lost youthful innocence.
There's also a lot of raunchy comedy here (this is not, by any stretch, a family-friendly musical). Some of it's fairly juvenile, but still very funny in Murphy and O'Keefe's clever lyrics.
They pen tunes that are likably catchy, if sometimes over-reliant on having the cast belt out numbers at full volume.
The performances from the 18-member cast show off lots of strong young, local talent. Lumsden is terrific in the lead — the character of Veronica has a wide-ranging journey over the course of the 135-minute (with intermission) musical, and Lumsden handles it all with a smart, sensitive performance. She's also got a marvellous voice, which is showcased to great effect here.
Fletcher complements her nicely with a cool, eerily dispassionate performance as the sociopathic J.D., and likewise gets to show off impressive vocal chops.
And as the Heathers, Hill, Hunter and Macasaet manage to make each of their initially unlikable characters distinct and oddly sympathetic.
The solid cast are backed by an equally impressive four-member live band under musical director Paul De Gurse.
And choreographer Brenda Gorlick stages big dance numbers with plenty of energy and wryly comic touches, like the use of cafeteria lunch trays as fans in the Heathers' big entrance in the big, bold opening number, Beautiful.
It's a curious musical indeed, but one sure to please fans of the source material. It is, as the Heathers themselves might say, simply "very."
Addams Family an ooky, but not altogether kooky, musical romp
Famous macabre family makes local stage debut with Dry Cold Productions
By Joff Schmidt CBC theatre reviewer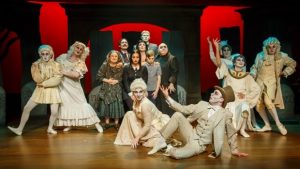 They're altogether ooky, but the spooky clan is played for silly, mostly satisfying laughs in Dry Cold Production's take on the 2010 musical The Addams Family.
The musical draws its inspiration from Charles Addams' comics, which in turn inspired the 1960s television show and later movies. The characters will be familiar to anyone who knows either the comics or the screen versions — the Addamses are a curiously macabre family, headed by slightly unhinged patriarch Gomez (played here by Kevin McIntyre) and his cool, vampish wife Morticia (Brenda Gorlick).
In this version, their daughter Wednesday (Julie Lumsden) is 18, and has fallen in love with the comparatively normal Lucas Beineke (Darren Martens).
This delights oddball romantic Uncle Fester (Stan Lesk) and his chorus of long-dead Addams family ancestors, but dismays Wednesday's younger brother Pugsley (Mackenzie Wojcik), who's worried about losing his playmate for his beloved torture sessions in the family's dungeon.
Both Morticia and Lucas' parents, Mal and Alice (Sam Plett and Naomi Forman) are dead set against the union, and a sort of gothic Romeo and Juliet scenario unfolds.
Marshall Brickman and Rick Elice's book is amusing, but certainly doesn't break any new ground. But it's all set to a likeable set of tunes by Andrew Lippa. There are plenty of toe-tapping tango flourishes to the music, nicely performed by a live quartet under music director Andrew St. Hilaire, and every cast member gets a chance to shine.
Standouts include Wednesday's love ballad "Pulled," backed by brother Pugsley stretched out and tortured on a rack, and belted out with gusto by Lumsden. The young Wojcik gets his own chance to show off impressive vocal chops with "What If?" Uncle Fester has his own genuinely touching ballad to his true love, the moon, with "The Moon and Me." And even the normally silent butler Lurch (John Anderson) gets a moment to shine.
The impressive 17-member cast delivers strong vocal performances, and the show is smartly choreographed by Robert Boge, especially a crisp, energetic tango number between Morticia, Gomez, and the Addams ancestors.
Director Donna Fletcher's production certainly captures the look and feel of the mysterious and spooky family, with an appropriately gothic set and costuming.
In the leads, Lumsden delivers a complex and intriguing dead-eyed intensity as the love-struck Wednesday, while Gorlick speaks volumes through Morticia's sly smirk and graceful languidness. McIntyre's Gomez is affable, but more goofy than weird.
And that's my biggest problem with this musical take on the Addams family. Brickman, Elice, and Lippa aim for silly comedy, and certainly land a lot of it, with everything from laugh-out-loud moments like a bawdy dinner table confession from Grandma (played wonderfully by Mariam Bernstein), to delightful groaners like Gomez's lament, "Wednesday's growing up — she'll be Thursday before you know it."
But they trade laughs and cuteness for real weirdness, which was always the charm of the Addams family to me — this musical leans more toward Mary Poppins than Tim Burton territory. The broad strokes of their eccentricities are still here, but the sense of strangeness that always made the family so fascinating seems to be sometimes missing in this musical version, which wants to make a point about embracing our oddities — but really feels like it's more about moving toward "normal."
And it moves along predictably, and with a running time of more than 150 minutes (with intermission) none too swiftly, to a conclusion we can all see coming from the start.
Still, it offers pleasant tunes, sharp staging, solid performances, and a lot of chuckles. But I did wish this Addams Family was a little kookier.
Opera does 'Bat' dance
By PAT ST. GERMAIN — Winnipeg Sun
Manitoba Opera is having a ball with comedy Die Fledermaus — a ribald masquerade ball featuring Johann Strauss Jr.'s Champagne Waltz and Donner und Blitzen Polka.
Last performed here in 1987, the operetta is full of surprises: It's sung in English instead of the traditional German. It features actor David Warburton (The Tempest) as a drunken jailer. And it boasts a contingent of professional dancers who bust a few moves at a Russian
prince's soiree.
"The dance sequences are short but they're fiery and they just explode on to the stage," choreographer Brenda Gorlick says. "I've got every trick in the book in there."
A triple-threat herself, Gorlick's dancers include Jeffrey Kohut — she played the Wicked Witch while he was Scarecrow in Rainbow Stage's Wizard of Oz last summer — along with former RWB stars Sarah Murphy-Dyson and Stephane Leonard.
Gorlick has worked with the opera in the past, but Die Fledermaus (The Bat) was her first full-blown dance for the company. She even has local soprano Nikki Einfeld braving a lift from her ballet boys and says she gave jock baritone Greg Dahl a hot tip on waltzing.
"I said, 'It's just like skating, you glide.' "
The Winnipeg-bred, Toronto-based Dahl has danced in the past but he says, "I'm not a triple-threat — I'm a two and a half threat."
As a younger singer, Dahl has also performed several new works in English. He says Die Fledermaus director Ann Hodges changed a few lines, but nothing is lost in translation. Audiences are well acquainted with the music, performed by the WSO, and the farce is fun for the actors.
As Dr. Falke, Dahl pulls a prank on his friend Eisenstein by secretly inviting Eisenstein's wife Rosalinde to a ball, where Eisenstein flirts outrageously, thinking she is a Hungarian countess. Rosalinde also has a suitor named Albert — who is masquerading as Eisenstein — but the couple break with opera convention. Instead of a murder-suicide at the end, they kiss, make up and blame the booze.
Dahl says Strauss also broke with opera convention. The librettists presented a concept, and he wrote the music before they completed the opera — which explains why it sings.
"It's brilliantly written, there's not a dull moment in it.
Die Fledermaus Review by Gwenda Nemerofsky
The Winnipeg Free Press
November 27th, 2006
Die Fledermaus
Manitoba Opera
Centennial Concert Hall
Nov. 25 Attendance 1,894
4 stars out of five
MOVE over, Seinfeld. Johann Strauss Jr.'s operetta Die Fledermaus has hit Winnipeg — and it's got audiences in stitches.
How can you lose with a cast of characters like this? A sweet-voiced lover, his objet d'amour — a married woman who can't resist his high
Cs — her philandering husband, their ambitious chambermaid, and a fellow bent on revenge, to name a few. Add a lavish party with dancing, cavorting and lots of champagne and you've got a recipe for pure, unmitigated entertainment.
Manitoba Opera (MOA) launched its 2006/7 season Saturday night with a splashy production of the 1874 hit, Die Fledermaus, a light-hearted story of revenge. Director Ann Hodges' inspired vision came to life within seconds of the curtain rising.
Filled with familiar arias and Strauss's infectious waltz tunes, it also features comical dialogue, wonderfully carried off by the ensemble. Although the production is in English, surtitles are still projected.
The story revolves around a grudge that Dr. Falke (played by Winnipeg-born baritone Gregory Dahl) harbours against his friend, Gabriel von Eisenstein (American tenor, Mark Thomsen). After a fancy dress ball, Eisenstein left Falke, still dressed in his bat costume, to sleep off his drunkenness on a park bench. Falke awoke the next day to the teasing of a pack of schoolchildren, who chased him and nicknamed him Dr. Fledermaus (Dr. Bat). Determined to get back at Eisenstein, Falke schemes to discredit him with his wife, Rosalinde (Robin Follman).
The cast is marvellous, with the Eisensteins' chambermaid Adele, sung by gifted Winnipeg coloratura Nikki Einfeld, a clear standout. Her rendition of the famous "Laughing Song" (Mein Herr Marquis) was flittingly light, with the highest notes floating to the top balcony, clear and purely crafted. Accompanied by her amusing body language and facial expressions, it was truly delightful.
Canadian tenor Stuart Howe was a hilarious Alfred, the lover who wouldn't quit. His lilting voice and sparkling eyes had Rosalinde swooning – and it had a similar effect on many female audience members. Expressive and accurate, he manoeuvred through the most demanding arias with ease and style.
Dahl gave a strong performance as the title character. He has great stage presence – totally commanding. His rich-toned voice carried throughout the hall more than any other performer, staying impeccably in tune and assured.
Thomsen, on the other hand, was not always clearly audible. His light tenor left some listeners straining. An accomplished actor, however, he played the flirty Eisenstein to perfection.
Follman was a convincing and appealing Rosalinde, showing great versatility in her disguised role as the Hungarian countess in the "Cs?rd?s" aria, where she sings dramatically of her beloved homeland. Full of pathos and enhanced by magisterial movements, it was an
engaging masterpiece.
The party scene held at Prince Orlofsky's opulent residence was full of fun and sarcasm, with the entire opera chorus onstage performing a variety of stunts, including a semi-clothed can-can by the men. Seven dancers, led by former Royal Winnipeg Ballet diva Sarah Murphy-Dyson, kicked up their heels in some high-energy numbers choreographed by Brenda Gorlick, lending extra festive flair to the party.
David Warburton showed sheer genius in his portrayal of Frosch, the drunken prison guard. His comic stylings with a rolling chair, bucket and broom were hilarious. If only the simulated urination scene had been omitted, this could have remained a totally tasteful production. As well, Eisenstein proclaiming that "J'ai une baguette dans mon pantalon" was an unfortunate lapse in propriety.
Veteran opera conductor Tyrone Paterson urged the most out of a very bright and alert-sounding Winnipeg Symphony Orchestra. The smooth waltz rhythms were especially fresh, with listeners' heads nodding even
before the curtain opened.
Sets were magical, drawing oohs and aahs from the crowd. Costuming was lavish and colourful, making this a superb got-it-all package.
Grant Burr Uptown Magazine
July 26, 2007

Hair – The Musical
Winnipeg Fringe Festival production
The high-energy choreography is thoroughly enjoyable and notable numbers such as Hair and Let the Sun Shine In will have the hair on your neck standing on end.