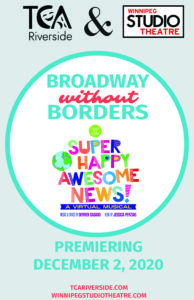 Broadway Without Borders – a collaboration between Winnipeg Studio Theatre's Junior StudioWorks Academy and TCA Riverside, California Youth Company is producing their 1st virtual musical –  "Super Happy Awesome News". Under the direction of Brenda Gorlick and Stacee Tweedlie, this family friendly musical brings together 26 emerging artists from California and Winnipeg who bring their energy, creativity and technology to the virtual stage. The Live-Streamed production will premiere on Wednesday, December 2nd at 8 pm on YouTube (via private channel). Please visit: www.winnipegstudiotheatre.com/donate/ or www.tcariverside.com to access a link (posted on Dec. 1st)
Donations are welcome in support of our youth programs!
Super Happy Awesome News synopsis:
Two siblings launch rival good news networks and find themselves competing for the title of happiest news show. Soon, their correspondents are in a whirlwind of ecstatic musical reporting – from joyful weather forecasts, to cheerful cooking segments and blissful political updates!